My very flesh* al dente Companions. (French game of word : Flesh=dear - chairs=chers)

A conference of THE UNO in Geneva on human rights, session said Durban II takes place at present (in April, 2009) because following upon the previous session on the subject having been held in Durban.
In what is Pastafarisme concerned?
Concerning the certain human rights countries looked unfavourably for a long time that we give them lessons onto the equality man-woman. In particular the Moslem countries, which concerned the debate the ground of the anti-religious racism.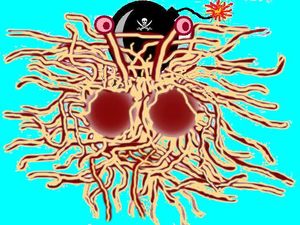 In brief, they managed of the "tour de force" to make it every criticism of pass have a practice to them social for anti-religious racism at the level of human rights. Certain countries as China, Cuba, Burma, and Pastafarians having voted for, too happy to annoy the destroyers of the moral order.
For what, we see well which custom(usage) can be made in an affair(business) of caricature of the prophet, and in Egypt a critic of the religion met in prison for 3 years. . . . . . . . . . . . . . . . . . . . . . . . . . . . . . Caricature anti-fundamentalists (pro Somalian Pirates)
Nevertheless this weapon is double-edged and should turn around against them authors although the defenders of human rights become a little rewind.
AT FIRST IT IS HENCEFORTH FORBIDDEN TO CRITICIZE THE PASTAFARISME
We see criticizing so how the state religious obscurantisms. One do not criticize them (otherwise racism), but we ask to make recognize a different faith (Pastafarism or the other one), and there it would be the obscurantists of hang under the blow of anti-religious racism if does not reach them it.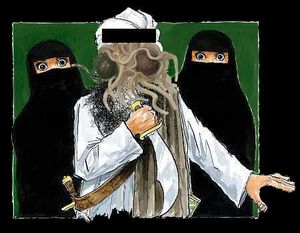 So the Anglicans, can ask to live in Muslim country, so as to be able to live their faith there without being criticized, prevented there that is from living it: any obstacle to this free exercise could be taxed by antireligious racism (as to want to prevent the disparity between the sexes is henceforth considered in these countries as a criticism of pure racism antinun).
Now the Anglicans admit the right for the divorce, where from the legislation of these countries should take into account it not to be taxed has their tour of antireligious racism. And naturally any country would have to admit the practice of any religion to them, and possibility of being converted (Every person who wants to divorce has only to become Anglican. In itself that would mean obliging these countries to become laic in the name of the fight against the anti-religious racism which they claim.
Une page de Pub :
In brief it is necessary to return the argument against their authors. Not to criticize practise them social religious, but use the prohibition of the religious criticisms to impose them the other forms of social practices on behalf of respect (anti racial religious) for the others common monk to them.

For Pastafarians, it goes without saying. Pastafarism does not criticize the other religions and does not want to prevent the creationists from expressing itself, he just asks he can live his faith with even right as the other religions. (If it oppose them, we are there hardly sorry for them, but each can express his difference).

I suggest in Pastafariians writing in the Secretarial department of the Government to Human Rights to propose this . . . . . . . . . . . . . . . . . . . . . . . . . . . . . . . . . . Counter-offensive to the world fundamentalists.
NAMELY: TO ASK COUNTRIES REFERRING of A STATE RELIGION, IN THE NAME OF the FIGHT AGAINST THE RELIGIOUS RACISM WHICH THEY LAUD FOR THEM EVEN, TO ACCEPT AND TO RESPECT ANY PRACTICE OF THE OTHER RELIGIONS ON ITS TERRITORY, AND TO PUT THEM LAWS IN CORRESPONDENCE OF THIS UNIVERSAL RECOGNITION.
RÂMEN
_________________________________
__ILLEGAL IN IRELAND : BLASPHEMY_
Durban (suite). 23 Jul 2009 : Well it has happened. The President has signed the Defamation Bill into law today which means in Ireland you can now be prosecuted for blasphemy. Yes that is right, in this Ireland of the 21st Century I can no longer complain about God, Jehovah, Allah, The Flying Spagetti Monster, or any other deity in case I get prosecuted for the crime of blasphemous libel.
Now while I am a church going person (Church of Ireland), with a healthy respect for himself upstairs, I don't he (or any other deity) is going to be too upset if an unbeliever blasphemes against him (or her or them). Are priest now going to have to be very careful with what they say in their sermons if they mention another religion.
Its crazy that in this day and age I have to be very careful in what I type, say, tweet or what ever in case someone takes offense in what I say and decides to try and bring a prosecution against me.
Its a bollocks to be honest. I agree with my Bishop, its time to take Blasphemy out of the Irish Constitution!
Zemanta Our correspondent perms in Ireland.
---
Québec knights the pastafarian practices !

---
To the driving licence I want to be estimated by a naked dancer !
Jacques Cartier (l'est encore là çui là ?) in Eglise québécoise du Monstre de Spaghetti Volant
With the advent of the bill 16 on the reasonable settlements, The services offered by the various governmental bodies are going to have to fit all the religions. Such as mentioned in The Canadian Press, it is enough to claim that god said to me that a man is going to violate me, or that a woman is impure, to have the service given by somebody else:
A decision returned by the Committee of the rights of the person set fire to powders, by giving the green light to the Society of the automobile insurance of Quebec ( SAAQ) to proceed to settlements on religious bases. So, Hassidic Jews obtained not to be estimated by a woman during their examination of driving licence, whereas Moslem women gained not to be served by a man. This kind of situations risks to multiply, if we adopt the bill 16, is afraid of Christiane Pelchat.
Thus if pen names religions based on fictitious gods can claim this kind of rights imagine what the followers of the REAL religion, that of the Flying Spaghetti Monster, are going to obtain!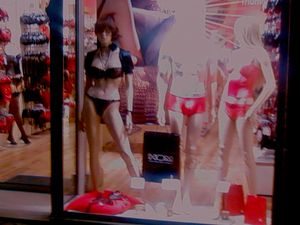 From now on all Pastafarians of Quebec has to require to be served by a naked dancer according to their preference. Any governmental service returned by an employee wrapped with garment will be considered as a blasphemy to the Monster.
The collection autumn-winters from the paradisiac factories arrived to Marseille:
In an interview given to the newspaper "Le Devoir" on October 6th, 09, the president of the Council(Advise) of the status of the woman ( CSF), Christiane Pelchat mentioned:

" If there is a place where the disparity of the women is dedicated, it is good in three monotheist religions. "!

The Quebecois Church of the Flying Spaghetti Monster, the official voice of Sa Savourity in Quebec is anxious to remind that these monotheist religions are based on imaginary gods. It is impossible to obtain whatever it is by calling upon the Santa Claus either upon a Sprite, then why the mythology of breeder's tribe of sheep(mutton) would give them more rights? The government thus owes stop these unreasonable settlements offered to these barbaric religions.


The Government of Quebec owes apply from now on the equality for all, such as expressed by the Monster of Flying Spaghetti:
" Really, print, please, that in the folds of your Noodly brains: a Woman is a Person and a Man is a Person. One is not better than the other one, so as to speak about fashion, and there I am sorry but I am obliged to recognize that the women and the certain chaps know how to make the difference enter Sarcelle and fuchsia. " : From dough of Its Co(s)mic Savourity ITSELF, In Nomine Spaghetti, secula secularum.

RAmen